Credibility
Credibility is one of the MOST important things to consider when doing research. Any person is capable of distributing information that may or may not be factual. The Internet makes it easy to move information quickly, regardless of accuracy. Remember the information cycle? Do you recall how quickly false information can get accepted as fact?
Credibility is...
Contextual
A tweet may be appropriate to use for research depending on the source of the tweet and your topic. For example, if you are researching public policy, a tweet from President Obama or the White House will likely be more valuable than a tweet from White Castle. But if you are researching marketing trends in the fast food industry, White Castle tweets may be a perfectly reasonable source for your project.
Credibility on the Internet
Check out INTERNET LIVE STATS for an idea of how much information is added to the Internet each day... it can be overwhelming. Information on the web can be added by anyone and is verified by no one (unless you do it yourself).
Content Credibility Checklist
All Resources:

Who is the author?

What are the content creator's qualifications?

Is the source a known, trusted source?

Web Resources:

What is the domain name?

Is there an About link?

For Books:

Look at the book jacket.

Look for publisher information.

For Journal Articles:

Look for author information.
Checklist for Observing Bias
All Resources:

What is the purpose of this resource?

Is there an agenda present?

Are both sides represented?

Is there data that has been ignored?

Web Resources:

What is the web address?

Is there an About link?

For Books:

Find out as much as you can about the author.

For Journal Articles:

Journal articles are generally free from bias.
Bias is...
Inherent
Bias is unavoidable, but it can be limited. Pay attention to the language used in your resource. Claims of absolute certainty point to an overly biased author. Not all bias is bad, but it is something you need to consider for each resource you use.
Bias & Intent
Bias in research comes when a resource, whether it is a book, an article, or a website, puts forth an opinionated perspective of a topic that cannot be supported by data. Bias is generally unavoidable, but pay attention to whether or not the author tries to limit their bias in any way.
In some instances, bias may be a good thing. If you are researching the American Civil War and using primary source material, the perspective provided by Northern authors will differ considerably from the perspectives of Southern authors.
Intent refers to the purpose of a resource, but relates closely to bias. The more biased a resource is, the more apparent the intent will be.
Currency
Currency is a fairly straightforward concept. Depending on your topic, you generally want to use the most up-to-date information in a research paper.
This can vary, however, between disciplines. Medical and scientific disciplines tend to use resources published within the past five years. Liberal Arts resources can retain value for decades, allowing researchers to compare and contrast treatment of different texts (e.g. a painting, a play, or a classic novel) at different periods of history.
Current information is also easier to verify.
Checklist for Currency
All Resources:

When was this resource created?

How relevant is currency to your topic?

Is more current information available?

When was the content last updated?
Currency supports...
Accuracy
Using current resources helps ensure your research is valuable and up-to-date. You would not want to use resources from the 1930's as a guide for current medical procedure. New research is published constantly and new content reaches the web every second.
Always Verify
It is always good to be wary of sources from the Internet. Some sites, such as SNOPES.COM, FACTCHECK.ORG, POLITIFACT.COM, and TRUTHORFICTION.COM, can help verify factual information. Still, make sure you have the skills and knowledge needed to verify information on your own, using the tools you have available.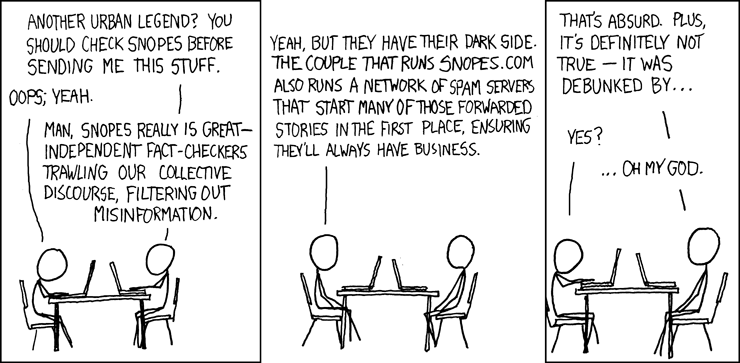 ---
This file is from xkcd.com. Content from xkcd.com is licensed under the Creative Commons Attribution-NonCommercial 2.5 license.

Details and usage notes can be found at xkcd.com/license.html.
Ask-A-Librarian
If you have any questions about the Research Process, using library resources, or completing these modules, please contact one of our Reference Librarians via the contact information below. You can always call or text our Ask-a-Librarian phone number for help as well. That number is 260.638.VANN (8266).